R-Protein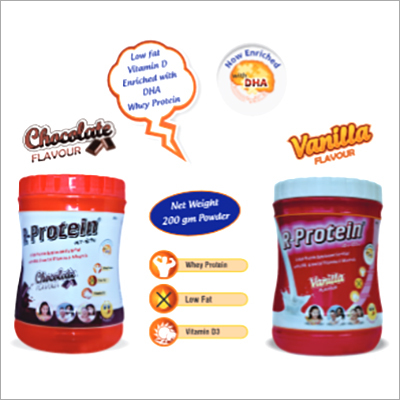 R-Protein
Product Code : 02
Price And Quantity
Minimum Order Quantity
100 Unit
R-Protein
Proteins are the vital nutrients- essential for life
Essential part of organism and participate in every process in cell-right from pregnancy to life term.
Important for each and every function of the body-right from zygote formation.
Essential for nutrition in all walks of life, since human beings can not synthesize all the amino acids.
Essential during pregnancy, lactation and growth.
DHA
Prevens preterm birth
Prevents primary allergies during childhood
Optimizes fetal visual and neural development.
R-Protein
Pregnancy
Growing Children
Post surgery
Lactation
Geriatrics
Balanced Protein Nutrition supplement for Good Health, Immunity and Strength
Flap Inside
Nutritional Information
| | | | |
| --- | --- | --- | --- |
| Composition | | Per 30gm | Per 100gm |
| Whey protein 30% | | 10g | 33g |
| Docosa Hexaenoic Acid 10% | | 25mg | 83g |
| Pyrodoxine Hydrochloride | IP | 0.5mg | 1.6g |
| Cyanocobalamin | IP | 1mcg | 3mcg |
| Vitamin D3 | IP | 100iu | 333iu |
| Folic Acid | IP | 300mcg | 1000mcg |
| Niacinamide | IP | 15mg | 50mg |
| Calcium (as Dibasic Calcium Phosphate Dihydrate IP) | | 200mg | 667mg |
| Manganese Sulphate | USP | 1.5mcg | 5mcg |
| Zinc (as Zinc Sulphate Heptahydrate IP) | | 1.5mg | 5mg |
| Iron (as Ferric Ammonium Citrate IP) | | 10mg | 33mg |
| Magnesium Oxide | IP | 4mg | 13mg |
| Cupric Sulphate | USP | 2.5mcg | 8.3mg |
| Chromium (as Chromium Chloride USP) | | 25mcg | 66mcg |
| Selenium Dioxide Monohydrate | USP | 20mcg | 66mcg |
| Potassium Chloride | IP | 5mg | 16.6mg |
| Sodium Chloride | IP | 33mg | 110mg |
| Iodine (as Potassium Iodide IP) | | 100mcg | 333mcg |
| Excipients | | q.s | q.s |
Get in touch with us